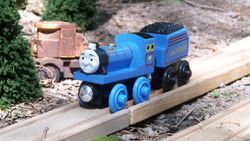 Bert
Bert is a blue tender engine who works on the Arlesdale Railway.
Bio
Bert was brought to Sodor from England with Rex and Mike for ballast traffic. When the Rev. Wilbert Awdry and the Rev. Teddy Boston accidentally splashed Bert with rainwater, Bert was very cross, and got revenge on the latter by causing him to be soaked by wet tree leaves. He later apologized, and the two clergymen cleaned him, and the Rev. Awdry promised to write about him and the others in his book. Bert was rebuilt in 1973.
Persona
Bert is older than Rex and Mike, but is not immune to getting muddled, like when he thought he was going to be physically put into a book, rather than his photo being put in a book. Bert is sometimes a bit quiet and shy, but is also quite friendly all the same. He is bright, but does have a unique thought process and sometimes gets teased because of this.
Appearances
Trivia
Gallery