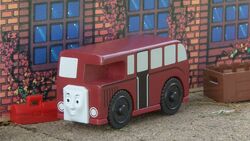 Bertie
Bertie is a cheerful red bus who works delivering passengers from Thomas' Branch Line to Knapford.
Bio
Bertie first helped Thomas by collecting his passengers after the little engine was stuck in a snow drift. Later the two met and they challenged each other to a race to see who is faster! Thomas eventually won, and from that day on, these two have been very firm friends indeed.
Bertie promised Thomas to deliver his passengers to Edward one day when he was very late, so he found himself chasing Edward to the station!
Bertie still occasionally races with his friend, Thomas.
Persona
Bertie is a friendly and cheerful bus that is a very trusty friend to the engines. Although he can't resist teasing them, he is still a very loyal friend to them. Thomas and Bertie have been firm friends for many years.
Appearances
Season 2: Aura of Menace (cameo), All the World's a Stage (cameo), Swashbuckler (cameo)
Season 3: Logan Leaves his Mark (cameo), Samson, BoCo, and the Man in the Hills (cameo), Culdee Fell (cameo), The Suggestion Box (cameo), Penn Pals (cameo), Ice Breaker (cameo), Chivalry is Dead (cameo), Percy and Asbestos (cameo)
Gallary
Ad blocker interference detected!
Wikia is a free-to-use site that makes money from advertising. We have a modified experience for viewers using ad blockers

Wikia is not accessible if you've made further modifications. Remove the custom ad blocker rule(s) and the page will load as expected.