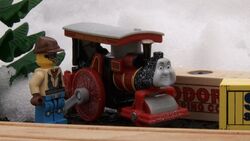 Buster
Buster is a red steamroller.
Bio
Buster was purchased by the Sodor Construction Company years ago to help out as Miss Jenny took over the company. He quickly became close friends with the other vehicles in the Pack. One time, he told everyone that he was "the world's fastest steamroller", and even though Max and Monty told him he was slow, he kept trying and despite the odds, beat the dump truck twins on the new Sodor Rally Track proving that slow and steady truly does win the race!
When he was in the Valley near the Little Western Extension, he and Oliver warned Arthur about slippery tracks up the line.
Persona
Buster is very self-assured and confident, but is also very kind and friendly, always ready to help a friend feel better and proud of who they are.
Appearances
Trivia
Buster is the first Thomas & Friends Character who doesn't appear as a Wooden Railway model. Instead, EE93 uses a Trackmaster model for him.
Gallery