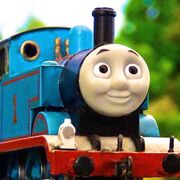 Calebtrain
is a YouTube user who is known for his cinematographic Thomas videos.
Bio
He makes all sorts of videos like: a Thomas series narrated by EE93; remake clips from the TV series; music videos; and shorts.
He's a model maker in EE93 series, who has currently designed Sigrid, The Culdee Fell Engines, and Mallard.
Notable Work
Sodor & It's Railways
The Adventure Begins Runaway and Crash Remake HO/OO
Custom Models
Ad blocker interference detected!
Wikia is a free-to-use site that makes money from advertising. We have a modified experience for viewers using ad blockers

Wikia is not accessible if you've made further modifications. Remove the custom ad blocker rule(s) and the page will load as expected.