The drivers drive and maintain the engines as well as road vehicles and, along with the fireman, keep the engines in control and provide a voice of reason when an engine is being difficult. 
Major Drivers
Derek's Driver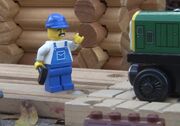 Derek's Driver
is very attached to his engine. During
Munitions
, he got emotional at the prospect of leaving behind his faithful engine, but gave in with the trust in Derek, who claims to be a "survivor". When Derek did come out of the fiasco alive and well, his driver was overjoyed and quite relieved!
Appearances:
Skarloey's Driver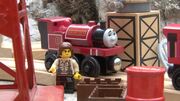 Skarloey's Driver
is a calm man who works with the little old engine, Skarloey. He accompanied his engine on the ghost engine escapade and when he and Skarloey discovered Proteus' secret, the two agreed not to tell anyone about their discovery.
Appearances:
Henry's Driver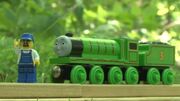 Henry's Driver
is a good-hearted railway man who drives
Henry
the Green Engine. He understands his engine very well and knew how to calm down Henry when he found out that the
Sodor Logging Co.
was to be cutting down the Forest.
Appearances:
Voice Actors
Gallery