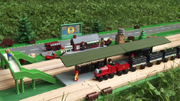 Elsbridge
is a village station on
Thomas
' Branch Line.
History
Elsbridge has a nearby river, the River Els. At one time, Elsbridge was the top station of the Knapford and Elsbridge Light Railway. After the opening of Anopha Quarry, the line was extended to Ffarquhar. it's also refered to as the station by the river.
Elsbridge is also, the junction to a loop line running from Tidmouth to the east of Crosby.
Appearances
Gallery
Ad blocker interference detected!
Wikia is a free-to-use site that makes money from advertising. We have a modified experience for viewers using ad blockers

Wikia is not accessible if you've made further modifications. Remove the custom ad blocker rule(s) and the page will load as expected.