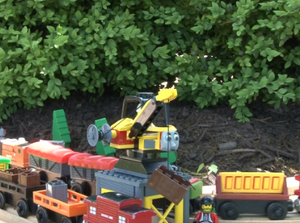 Ember Gorge is a cliffside yard on the Skarloey Railway.
Appearance
The features of Ember Gorge include:
Spitzer the crane
A marshalling yard
A transfer station
Workmen's residences
History
Ember Gorge was built to exchange goods from Lorry to Rail, and vice-versa. Spitzer currently works here. Before Spitzer arrived, a great portion of it was destroyed due to the "Cannon Fodder" incident, with Fearless Freddie and Sir Handel barely escaping with their lives!
Residents
Appearances
Gallery
Ad blocker interference detected!
Wikia is a free-to-use site that makes money from advertising. We have a modified experience for viewers using ad blockers

Wikia is not accessible if you've made further modifications. Remove the custom ad blocker rule(s) and the page will load as expected.