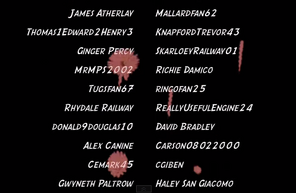 Enterprisingengine93
has more than seventy faithful voice actors, including friends, YouTube members and guests. He often receives several audition requests from fans.
Main Characters played by YouTube Members
Enterprisingengine93 as: Arthur, Mike, Frank, Dart, Gator, Shane Dooiney, Paul the Mechanic, Kurt's Driver, Brammo's Driver
SteamTeamRedubUK as: Henry, Cranky and Byron
KnapfordHarbour as: Gordon (Aura of Menace onwards) and D199
ToonKriticY2K as: James and Duncan
Missoliverandblossom as: Gordon (Splatter-Tag-Team), Percy (Culdee Fell, remastered Season 1 and 2 episodes), and Norman
Sacredwolfie as: Toby and Salty (Seasons 1 and 2)
TrevorPalVA as: Stephen, Hank, Den, Toad, and Sir Frederick Aura
Mallardfan62 as: Duck (Henry and Kurt onwards), Dodge, Kelly, D261 and Sir Handel's Driver
DieselD199 as: Bill and Ben, Paxton, Peter Sam, Whiff and Foreman Okamoto
TheKipperRunsAgain as: Derek, Fearless Freddie and 'Arry and Bert (Rock-Star onwards)
Melad Moshiri as: Donald and Douglas (season 2 only), Rheneas, Mr. Mason, Sailor John, and The Flying Scotsman
TurboJUK as: Sidney, Stanley's Driver and a Stationmaster
Damocles178 as: Diesel
SodorsNWRsteam as: Fergus and Rusty
SodorFan2K10 as: Skarloey
Trainlover476 as: Sir Handel, The Doctor and Diesel 10 (Rock-Star only)
VeryOldEngine as: Duke
1995express as: Salty
bespingaurdstudios as: Billy and Dex
MrAwesomeTrainz/Patrickisthebest as: Ivo Hugh, Culdee (season two onwards) and Troublesome Trucks (Young Tucker) 
turtlesandthomas as: Mighty, Jeremy
DTChapman1 as: Diesel 10 and Walter Sliggs
Curtylara2/SamTheTrainFan as: Bertie, Den (Swan Dive only), Troublesome Trucks, and Eric
HTTVchannel as: Stepney
Michael nelken as: Young Tucker and Kevin
LAZStudios as: Jack
Thomas1Edward2Henry3 as: Ned, The Lumberjack with the Bazooka
Tyler Hildebrand as: Connor and Rick Shay
Klurty34 as: Logan and a Sergeant
James P. as: Red Knight
GingerPercy as: Bert, Henry's Driver, The Lumberjack with the Buzz Saw
Steve Garcia as: A Rail Worker, Troublesome Truck, and Victor
MainLineEngine112 (Bill and Ben the Twin Engines) as: Arthur's Fireman (Snow Blind), Flynn, Brammo, Dennis, and Yong Bao
DiamondThomas as: Culdee (Season 1)
Darthwill3 as: Patriot and Mr. Walter Richards (Culdee Fell Onwards) 
GeebMachine as: Doc and Wilfred
BaeumlerFilm as: Ernest and The Flying Wing
Little Engine (SIF) as: Alaric
TwistedTom as: Skiff
AFewGoodFilms as: Charlie
Derek Smith as: Whiff
CrikeyFellRailway as: Sam and Godred
MilkTankerMedia as: Bear
Norramby Hero as: a secret character
Sudrian Trainspotter as: Butch (Season 3)
Shortround551 as: Nelson and A Constable
TheTrainModeller as: Kelly (Season 3)
Mikester Paltoes as: Philip
SonGohan619 as: Secret Character and Chaffee
Annie C. as: Caroline
Upsidenow: Charlie (Season 3 onwards)
EdwardAlba: Hiro
Welshy: Tiger Moth's Pilot
Urrick: Colin
Enterprising Engines Fans as: Freight Cars and Lumberjacks
Greg and Lars' voice actors have yet to be credited.
Guests