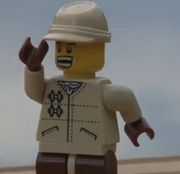 We wish you a happy visit to our Wikia! To be one of us, we kindly ask you to read those rules. Our Wikia is a friendly Wikia and we don't apply rules very strictly. so please, read them for a better contribution!
General Rules
Be nice! we don't accept rudeness or anything like that.
If you want to be an user here, DON'T get on anonymous account, this rule has been approved by an admin and the founder. So make an account before you suffer serious consequences.
No Spam and No Vandalism!
Image/Editing Rules
Infoboxes have now been edited so you can add them to pages. To add an infobox to an episode page, type the code shown in the "code for an infobox" picture to the right, to add an infobox for a character, type the code shown in the "code for an infobox character" shown to the right.  

Please do NOT, I repeat, do NOT, center the galleries on pages. It makes the galleries look hideous, something many administrators, such as EE93 and myself, have agreed upon. Please DO NOT center the galleries. Thank you.
Please do NOT center characters' names on pages. More often than not, it causes a problem and causes the text to look funny, so to avoid all of this, unless you are sure you know how to bold a character's name, please stop doing it.
Rules made by MrMPS2002
Chat Rules
No NSFW (not safe for work) content.
No Rudeness
Don't post any rubbish.
Comment Rules
Comments are to be used only for requesting additions or changes to the article. They are NOT for requests or other questions about the page. Please message an admin in these instances.
Comment spammage is a reason for banning.
Rules made by User:Patrickisthebest
That's all, Happy Editing
Ad blocker interference detected!
Wikia is a free-to-use site that makes money from advertising. We have a modified experience for viewers using ad blockers

Wikia is not accessible if you've made further modifications. Remove the custom ad blocker rule(s) and the page will load as expected.