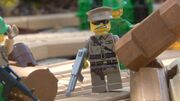 Overview
General Zen is an imperious figure who believes in protocol and exerting his authrority whenever and wherever possible. He will often show respect for his peons but is bitter towards anyone working outside the Ministry of Defense.
Captain Grant was a loyal comrade to General Zen through and through. Despite his hot-headed and sometimes irrational decisions, Grant never lost faith in his superior. However, when Zen was injured by falling debris, Grant disobeyed his orders for the first time so lives could be saved. 
Captain Grant also named the General's three jeeps: Muddle, Mayhem, and Filibuster. 
Similar to General Zen, the three follow strict military protocol and follow Zen's every order without question. This, in turn, leads to three's ultimate demise.
The two seemed to have contrary views about the munition contract. During the events of "Munitions", after the General was injured the Thin Controller helped assist him to safety. The General was grateful for the Thin Controller's kindness.
Ad blocker interference detected!
Wikia is a free-to-use site that makes money from advertising. We have a modified experience for viewers using ad blockers

Wikia is not accessible if you've made further modifications. Remove the custom ad blocker rule(s) and the page will load as expected.