This article focuses on the interactions between Everyone and The Thin Controller.
Overview
Roger Sam, better known as the Thin Controller, is the controller of the Skarloey Railway. His engines mean very much to him, especially Skarloey and Rheneas. He is also willing to embrace danger and seek adventure when nesecary, although he has recently tired of all this swashbuckling. He also holds a very strong bond with his wife, Roxanne Sam.
Darren was a workman the Thin Controller was close friends with. In "
Munitions
" the two helped save
Derek
's
Driver
,
Captain Grant
,
General Zen
, a few soldiers, and a stray dog. Although the rescue party made it out of alive, Darren's passing took place at the hands of
Sir Frederick Aura
's attack on
the Mine Junction
in "
Aura of Menace
."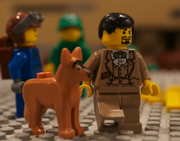 Watson is the Thin Controller's dog that was rescued during "Munitions." He is a faithful hound that occasionally follows his owner as he visits his fleet. It can be tight squeeze in the cab, but Watson fancies a pleasant ride with his master any day!
Ad blocker interference detected!
Wikia is a free-to-use site that makes money from advertising. We have a modified experience for viewers using ad blockers

Wikia is not accessible if you've made further modifications. Remove the custom ad blocker rule(s) and the page will load as expected.