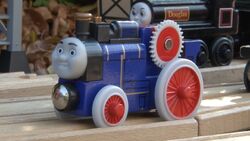 Fergus
Fergus is a determined blue traction engine who works at the Cement Works.
Bio
Fergus first arrived on Sodor when help was needed at Centre Island Quarry, where he worked with the mischievous duo of Bill and Ben. The cheeky little tank engine twins were annoyed by the rule-obsessed traction engine and tried to rid of him. Later, Bill and Ben brought the Rock Crusher to the Quarry where Fergus ended up in a pile of rocks! Soon afterwards, Fergus was sent to the Cement Works.
He worked very well at the Cement Works, until Diesel came and began spewing his usual conspiracy theories, which Fergus took to heart, causing him to run away and nearly get scrapped by 'Arry and Bert.
He was called upon to be a banker for Henry's goods with Bear when the green diesel wanted the traction engine to feel special. When Fergus discovered the ruse however, he was very upset with Bear's deception.
Many months later, Bear still felt bad about his incident with Fergus in the summer, even though then it was cold mid-winter. When Bear got caught in an avalanche, the brave traction engine brought Jack the Front Loader to save Bear and his passengers, and the engines reconciled.
Persona
Fergus is a rule-following, kind hearted traction engine who is close friends with Bear the Diesel Engine and is known as the Pride of the Cementworks! 
Appearances
Gallery
Ad blocker interference detected!
Wikia is a free-to-use site that makes money from advertising. We have a modified experience for viewers using ad blockers

Wikia is not accessible if you've made further modifications. Remove the custom ad blocker rule(s) and the page will load as expected.