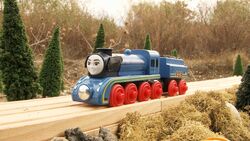 Frieda
First Appearance: TBA
Friends: Unknown
Enemies: Unknown
Voiced By: TBA
Frieda is a blue German Engine.
Bio
Frieda arrived in Britain to participate in the Great Railway Show's strongest engine competition.
Persona
Frieda is a sleek blue streamlined engine from Germany. Beautiful and strong, Frieda will be entering the Strongest Engine race. She has come to show that anything boys can do, the girls can do better.
Appearances
Trivia
Turtlesandthomas had made modifications to the model to include larger smoke deflectors, a buffer beam and tail lamp on the tender, lights on the front and the addition of coal in the tender. Frieda is the only model to have this done to her.
Gallery
Ad blocker interference detected!
Wikia is a free-to-use site that makes money from advertising. We have a modified experience for viewers using ad blockers

Wikia is not accessible if you've made further modifications. Remove the custom ad blocker rule(s) and the page will load as expected.