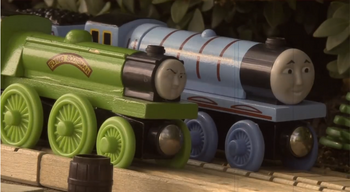 This page is about the relationship between Gordon and Flying Scotsman.
On the day Flying Scotsman was slated to arrive on the island, Flying Scotsman was quite amused to learn Gordon was pulling Murdoch's goods train. Gordon attempts to slip away without being noticed however.
When some of the other engines begin to mention Flying Scotsman's rock-star status, Gordon is quick to remind everyone of his connection to the great engine. When Flying Scotsman does arrive, Gordon is quite surprised to see his brother being towed along by Sidney. The two unite for a photo-op, reminiscent of the old days.
Sir Robert Norramby and Scruff arrange for the brothers to pull an excursion to Ulfstead Castle as a surprise, much to the delight of the both of them! As the two make their way to collect the train they encounter 'Arry and Bert, who sarcastically praise Flying Scotsman before continuing on their way.
Upon collecting their train, the pair are overjoyed at the memories of the old days the excursion conjures up for them. Before long however they are stopped by a flagman, who warns the pair of a runaway goods train up the line, urging the pair to warn people up the line. The pair leave their train and race towards the Mine Junction to warn those working their, managing to make it in time to warn everyone and prevent a serious accident.
Ad blocker interference detected!
Wikia is a free-to-use site that makes money from advertising. We have a modified experience for viewers using ad blockers

Wikia is not accessible if you've made further modifications. Remove the custom ad blocker rule(s) and the page will load as expected.