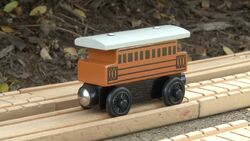 Henrietta
Henrietta is a coach that belongs to Toby. 
Bio
When The Fat Controller was on holiday many years ago, he came across a tram engine and his coach, Henrietta. He took rides on them for several days during his holday and the controller and his family became good friends with Toby and Henrietta. When the Fat Controller returned from his holiday, he had a problem with Thomas and a policeman on the Quarry Route. Simultaneously discovering that Toby's line was closing down, he purchased Toby and Henrietta and they have been working on Thomas' Branch Line ever since!
When James had an accident, Toby and Henrietta were sent to be painted and mended- looking as good as new!
Persona
Henrietta doesn't say much, but she still feels very fondly of Toby and loves to look her best! As long as Toby's happy, she's happy too!
When Toby begins to doubt himself, Henrietta is very quick to reassure him and build his confidence.
Appearances
Gallery