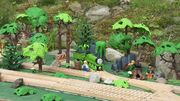 "Henry's Forest" is a forest on the Main Line. It is nicknamed after Henry, who frequently visits the forest. Once, a storm tore down roughly half the trees, leaving much of the underlying hills bare. This created a bleak landscape, depressing engines and people alike. The Fat Controller purchased replacement trees from a plant nursery, and now the forest is greener and livelier than ever before. It is located between Crovan's Gate and Vicarstown.
Appearances
Gallery
Ad blocker interference detected!
Wikia is a free-to-use site that makes money from advertising. We have a modified experience for viewers using ad blockers

Wikia is not accessible if you've made further modifications. Remove the custom ad blocker rule(s) and the page will load as expected.