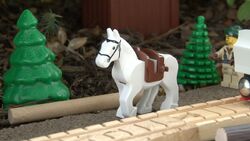 Humphrey
Humphrey is Sir Robert Norramby's horse. He lives in a small stable at Ulfstead Castle. 
Bio
The stubborn old horse was permitted to assist Sir Robert Norramaby and Millie on their quest to reclaim King Orry's Lost Sword. Humphrey was startled by a dynmite blast at the Blue Mountain Quarry, causing him to gallop away in fright. He spent a major portion of the day blocking Ivo Hugh's path. Yet, nobody knew how he got there!
Appearances
Gallery
Ad blocker interference detected!
Wikia is a free-to-use site that makes money from advertising. We have a modified experience for viewers using ad blockers

Wikia is not accessible if you've made further modifications. Remove the custom ad blocker rule(s) and the page will load as expected.