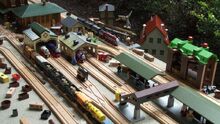 Killdane is part of
the Main Line
, and is the junction that leads to the
Culdee Fell Line
. It is also where
the Sodor Ironworks
is located. It is between Balladrine and Cronk.
History
Killdane is a town and the junction for the Peel Godred Branch Line run by eletric locomotives. In 1935, Henry crashed into a goods train with 'The Flying Kipper' and In 1967, a ballast processing plant and distribution was set up by the Arlesdale Ballast and Granite Company. A motorail terminal was also opened here in 1977.
In addition to this, a waste disposal facility serviced by Scruff and Whiff is also nearby.
Appearances
Gallery
Ad blocker interference detected!
Wikia is a free-to-use site that makes money from advertising. We have a modified experience for viewers using ad blockers

Wikia is not accessible if you've made further modifications. Remove the custom ad blocker rule(s) and the page will load as expected.