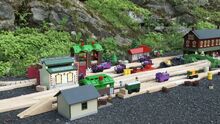 Kirk Machan (Sudric for Machan's Church) is the Mountain Railway's western terminus and the location where the mountain engines exchange supplies and tourists with the Peel Godred branch line. The North Western branch line continues to the cliff-face at High Peak Marshaling Yard. It is also the headquarters of the Culdee Fell Railway.
Culdee took the The Shepherd here after saving him from the falling steel bridge.
Appearances
Trivia
Kirk Machan is flimed in EE93's neighbours' driveway.
Gallery
Ad blocker interference detected!
Wikia is a free-to-use site that makes money from advertising. We have a modified experience for viewers using ad blockers

Wikia is not accessible if you've made further modifications. Remove the custom ad blocker rule(s) and the page will load as expected.