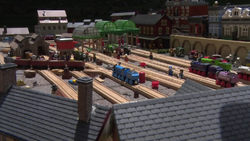 Knapford
is home to the largest station on the railway, the station has a junction which goes to Thomas' Branch Line.
History
Knapford, is the big station, built in 1956, serves as a passenger station, and serves as the junction to the Main Line and Thomas' Branch Line.
The station has a small shunting yard beside it with a coal hopper added. It also has a signal gantry, five platforms and a glass roof, the station receives eight trains per day.
Thomas worked there as a station pilot/shunting engine on his first days. The shunting is now handled by many different engines, mainly Philip, Stafford, and Charlie.
Appearances
It may appear in the Self-Fulfilling Prophecy special.
Gallery