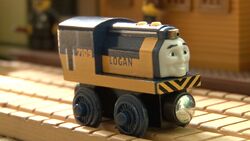 Logan
"I've just met a strong little shunter named Logan. Nice fellow. A little grubby, dented buffers, but a lot of spirit."
―Gator, Logan Leaves his Mark
Logan is a scrappy little steam shunter who resembles a diesel and works at Crosby Coaling Plant. 
Bio
One day, Gordon and Edward arrived at the Crosby Coaling Plant in need of coal, and Logan was to arrange their trucks and coaches for them. However, he soon realized that he had mistaken Edward and Gordon and sent them off with their wrong loads! Luckily, he was quick to fix his mistake and Gordon responded to his hard work by calling him a Really Useful Engine, and the two became friends.
One day, James came to the Coaling Plant to collect coal for Crock's Scrap Yard. He spoke rudely to Logan, and ignored his advice about the trucks. James ended up derailing, leaving Logan to take his trucks. He met Harvey, Neville, and Reg at the Scrapyards, and asked if he could help out for a while. He was eager to impress, and was trying to prove himself after James' rudeness. He ended up getting overexcited, and crashing into some trucks. He explained his distress to his new friends, and Harvey and Neville told him about how they were treated when they first came to Sodor. They encouraged him, and lifted his spirits. After the days work, Logan headed back to the Coaling Plant.
Later, Gator met Logan when he collected some coal for Kirk Machan. Gator told Culdee about Logan, and said he would like to get to know him better.
Logan partakes in discussing Neville with Hank, Stanley, and Rosie one day at Killdane; expressing his suspicions of Neville not actually being Jamaican. This earns him a telling off by Hank for believing Neville's charade.
Persona
Logan is a rough and tumble little shunter who often jumps to conclusions, but knows that patience is a virtue. He loves to be useful, and can be prone to making himself known wherever he can.
Appearances
Trivia
Logan wasn't originally planned to appear in the series, but when YouTube user Donald9andDouglas10 decided to give his extra Logan model to EE93, Logan joined the crew of Enterprising Engines!
Gallery