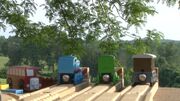 Look-Out Point is a panoramic view situated close to Ballahoo.
History
Look-Out Point is a small shunting yard with a remarkable view of the lush, green forests of Sodor. There is a searchlight tower and a few small warehouses close by.
Stepney spent an entire afternoon with Edward and Donald there, in awe of its gorgeous, breath-taking view. 
Stanley traveled to Look-Out Point when 'Arry and Bert were being rude to him. Diesel came by and made him feel even worse, plaguing his conscience with "conspiracy theories" until Edward set them straight! 
The Flying Scotsman rested here after saving the refinery from a runaway goods train. 
Appearances
Gallery
Ad blocker interference detected!
Wikia is a free-to-use site that makes money from advertising. We have a modified experience for viewers using ad blockers

Wikia is not accessible if you've made further modifications. Remove the custom ad blocker rule(s) and the page will load as expected.