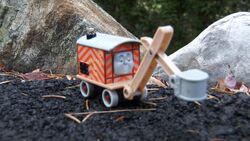 Ned
Ned is an old steam shovel who works with the Pack.
Bio
Although Ned means well, he can be a bit clumsy and careless who often causes accidents.
Appearances
Trivia
Ned's Take Along model is to be used because he is not featured in the Wooden Railway range.
Gallery
Ad blocker interference detected!
Wikia is a free-to-use site that makes money from advertising. We have a modified experience for viewers using ad blockers

Wikia is not accessible if you've made further modifications. Remove the custom ad blocker rule(s) and the page will load as expected.