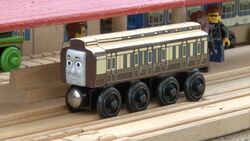 Old Slow Coach
First Appearance: Young Tucker (cameo)
Enemies: Unknown
Voice Actor: TBA
​Old Slow Coach is a Falmouth Coupe brake coach that works on the Main Line.
Bio
Old Slow Coach used to be one of many Falmouth Coaches made for the Great Western Railway in 1893, and was eventually bought and brought over to Sodor, where she sadly became outdated by newer rolling stock and was replaced by them, and she was eventually sent to the scrapyards, though the workmen never truly found time to cut her up.
She eventually encountered Thomas and Percy, who were collecting some metal from the Ironworks, and after telling the two of how she ended up in the yards, the two tried to think of a way to save her, but could come up with nothing until the coastal workmen's hut burned down, leaving the workmen with no place to sleep. Thomas and Percy said that Old Slow Coach could be used as a temporary resting place until the hut was rebuilt, and so she was restored to her former glory, being repainted and refurbished as a stationary coach before being fully restored into a coach. She was later used as the 'Old' portion of Mrs. Kyndley's daughter good luck wedding package.
Persona
Old Slow Coach is a gentle and kind sort that has a great deal of experience. 
Appearances
Gallery
Ad blocker interference detected!
Wikia is a free-to-use site that makes money from advertising. We have a modified experience for viewers using ad blockers

Wikia is not accessible if you've made further modifications. Remove the custom ad blocker rule(s) and the page will load as expected.