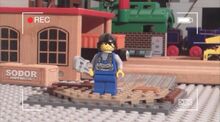 Paul the Mechanic - Meet the Characters! is a Meet the Characters segment featuring Paul the Mechanic.
Plot
Paul the Mechanic tells the audience that his job is to fix crap in a snap. He finds the recording of this conversation intrusive, so he proceeds to break the camera with his wrench, effectively ending the segment.
Characters
Trivia
The footage used in this video was shot with EE93's I-Phone.
This is EE93's shortest video at 15 seconds.
Ad blocker interference detected!
Wikia is a free-to-use site that makes money from advertising. We have a modified experience for viewers using ad blockers

Wikia is not accessible if you've made further modifications. Remove the custom ad blocker rule(s) and the page will load as expected.