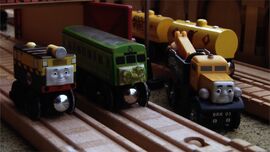 Philip and Daisy - Meet the Characters!
is a Meet the Characters segment featuring
Daisy
and
Philip
.
Plot
Philip is shunting some tankers in the yards, quite enthusiastic to show off his ability to Daisy. Daisy emerges from her shed with a beauty mask and cucumbers over her eyes, surprised by the boxcab's arrival. Annoyed by his endearing personality and the fact that he has disturbed her beauty sleep, she tells the little diesel to get lost. Arthur backs down next to Daisy, defending Philip's cute persona, noting his "cute puppy dog eyes" (despite the fact she can't even see them). Daisy relents, apologizing to Philip and asks him to instead describe to her what he is doing. Philip goes about his business, quite happy to play along with Daisy.
Characters
Trivia
Guacamole was used to create Daisy's beauty mask.
Gallery
Ad blocker interference detected!
Wikia is a free-to-use site that makes money from advertising. We have a modified experience for viewers using ad blockers

Wikia is not accessible if you've made further modifications. Remove the custom ad blocker rule(s) and the page will load as expected.