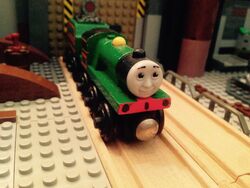 Rex
Rex is a green engine who works on the Arlesdale Railway.
Bio
After Rex's old line in England closed down in 1967, he, Mike, and Bert were brought by The Fat Controller and transferred to the Arlesdale Railway for mining and tourist traffic. After the railway secured a deal to transport wool to Arlesburgh, Rex was chosen to pull the first train. But after a negligent farmhand spilt some wool bales on the rails, Rex hit them and derailed. His train was rescued, but Rex had to remain there for several days until he could be lifted out.
Rex has a friendly, often argumentative rivalry with Mike.
Persona
Rex is kind, a hard worker, but sometimes has problems with traction. He is friendly and cheerful, and will always be around to talk to. He does his jobs without fuss. He is very bright and clever, and to some, he can be seen as a bit of a know it all, but this is a reflection of a genuine interest and awareness of the goings-on around him.
Appearances
He is likely to appear in Season 3.
Trivia
Because the Thomas Wooden Railway line never made a model of Rex (and Bert until mid-2015), EE93 made custom Rex and Bert models with the help of Tuckinator15 and Jahan Lam.
Gallery
Ad blocker interference detected!
Wikia is a free-to-use site that makes money from advertising. We have a modified experience for viewers using ad blockers

Wikia is not accessible if you've made further modifications. Remove the custom ad blocker rule(s) and the page will load as expected.