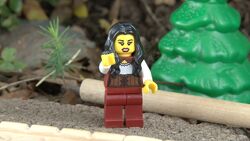 Roxanne Sam
Roxanne Sam is the Thin Controller's wife. She has five children. 
Bio
After studying at University, Roxanne met Vegard, Weaver, Rick Shay, and the Thin Controller. Eventually, she was married to the latter. 
After the Thin Controller breaks his leg dueling with Skarloey, she learns of the Thin Controller's adventure seeking behind her back, leaving her quite furious. He manages to win her back by romantically comparing his love to her with that of the engine's personalities. Her faith in him renewed, she drives him and the Small Controller to the Lumberyard for their meeting. 
Not long after the meeting starts, Madge and Roxanne become concerned with how things are turning out, Madge and Roxanne drive through the door to rescue the Thin Controller. 
After the incident, she expresses her disbelief that such dangerous incidents happen to her husband with great frequency. This causes Roger to tell Roxanne about his encounter with Vegard following the Blunderbuss incident. She reassures her husband that he made the right decision keeping them in jail. 
Persona
Roxanne is compassionate, thoughtful, and lovely. She loves her family very much and is adamant that her husband not go on adventures. She wants everyone she loves to be safe and sound. She is, however, very supportive of anyone's pursuits. Roxanne also has a beautiful singing voice. 
She has a history with Vegard. The two are very close friends. 
She often comes to visit the Skarloey Railway Engines with the Thin Controller, her favorite being Duncan. 
Appearances
Gallery
Ad blocker interference detected!
Wikia is a free-to-use site that makes money from advertising. We have a modified experience for viewers using ad blockers

Wikia is not accessible if you've made further modifications. Remove the custom ad blocker rule(s) and the page will load as expected.