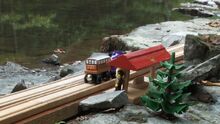 Shiloh is the station right below Skarloey Road on the Culdee Fell Railway.
History
Walter Richards took Culdee up here to debrief him on his task upon his return, expounding his respect and admiration for Culdee.
When Culdee and Catherine arrvied at Shiloh on the way to inspect the bridge. Harold informs them of the shepherd dangling from the bridge. Based on his fear of the bridge, Culdee returns to Kirk Machan to find another engine to respond.
Appearances
Gallery
Ad blocker interference detected!
Wikia is a free-to-use site that makes money from advertising. We have a modified experience for viewers using ad blockers

Wikia is not accessible if you've made further modifications. Remove the custom ad blocker rule(s) and the page will load as expected.