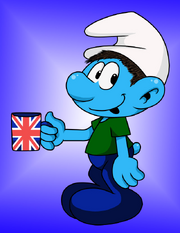 SmurfyDan, formerly known as BustertheSteamroller and Dan5589 (also known on the Sodor Island Forums as Mr. Coffey Pot), is a British YouTuber and aspiring voice actor.
He is perhaps best known for making an ambitious fan documentary film about the Reverend W. Awdry and Thomas the Tank Engine called Steaming to Legacy featuring Enterprisingengine93 as the narrator.
As of August 25th, 2017, SmurfyDan works for the Thomas & Friends Creator Collective as one of the editors.
Notable Work
Voices
Trivia
SmurfyDan has been active on YouTube for more than a decade since March 29th, 2006 under two separate accounts 'Dan5589' and 'NevilleFan' (both got suspended in September 2008 due to copyright infringement).
He also enjoys watching other shows including The Smurfs (hence why he called himself 'SmurfyDan'), Angry Video Game Nerd, Thunderbirds, Mr. Men and Charlie Brown.
Other than Enterprising Engines as a voice-over artist, SmurfyDan participated in a variety of Thomas fan projects on YouTube including T&F by missoliverandblossom and Thomas Mini Series by CraneProductions27.
SmurfyDan met a variety of well known people including Chris Tennant, Jerry Springer, Jamie Edwards, David Bedella, Kerry Shale, Matt Zimmerman, Shane Rimmer, Liz Morgan and many others.
From the show's beginning until May 2017, SmurfyDan sent lots of fan letters and packages to AniMat (Mat Brunet of Animation Lookback fame) as part of his P.O. Box show called 'What's In The Box?'.
At the age of 11, SmurfyDan drew, painted and sent a very colourful picture (taken from the magazine advertisement of Thomas & Friends: The Big Live Tour) to the CITV's Birmingham headquarters, where it was shown by then presenter Leah Charles-King at the end of a repeat of 'Elizabeth The Vintage Lorry' in February 2003. By the end of the month, he received some goodies courtesy of CITV.
SmurfyDan was acknowledged in the 2015 edition of Brian Sibley's The Thomas the Tank Engine Man alongside Sam Wilkinson, the Awdry family, Owen Bell and Gyles Brandreth.
Characters