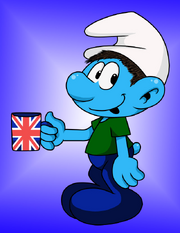 SmurfyDan, formerly known as BustertheSteamroller and Dan5589 (also known on the Sodor Island Forums as Mr. Coffey Pot), is a British YouTuber and aspiring voice actor.
He is perhaps best known for making an ambitious fan documentary film about the Reverend W. Awdry and Thomas the Tank Engine called Steaming to Legacy featuring Enterprisingengine93 as the narrator.
As of August 25th, 2017, SmurfyDan works for the Thomas & Friends Creator Collective as one of the editors.
Notable Work
Voices
Characters