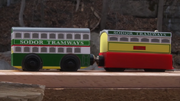 Sodor Tramways
is a company serving Great Waterton and other nearby villages. In earlier years, as road traffics increased, traffic on the Sodor Tramways decreased, and it was closed down.
Soon after the rediscovery  of Great Waterton, the Sodor Tramway came back to business. Flora, is the only tram known to run the line.
The station, seen in Ice Breaker, serves as a base of operations for repair work on the tramway after ice destroyed the track near River Hoo. It's possible that the station acts as a main station for passengers who want to travel on the tramway. Beside the station, there's a small village made of shops and stores where one of them is a pet shop and The Tramway Cafe.
Molly and Charlie were sent to work on Sodor Tramways one icy season.
Appearances
Gallery
Ad blocker interference detected!
Wikia is a free-to-use site that makes money from advertising. We have a modified experience for viewers using ad blockers

Wikia is not accessible if you've made further modifications. Remove the custom ad blocker rule(s) and the page will load as expected.