SodorsNWRsteam
, otherwise known as George Oakes, is a voice actor in Enterprising Engines.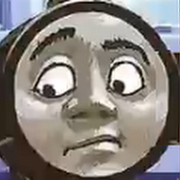 SodorsNWRsteam joined YouTube with his current account in 2012, and has since been making adaptations of Railway Series/Thomas the Tank Engine-themed stories. He regularly collaborates with other users both in writing voice acting, namely Tardisrescue, TheScotsmanReturns, Skarlouie and NWRWS01.
Voices:
Notable Work
The following is a list of notable videos by YouTuber SodorsNWRsteam;
The NWR Stories:
"Faulty Points and Fire Services" (2013)
"Braking Point" (2013)
"Bad Driving" (2013)
"Percy's Christmas" (2014)
"Picture Perfect" (2015)
"Jingle Fells" (2015)
Railway Series/Televsion Series Adaptations:
Down the Mine (2012)
Thomas and the Swan (2013)
Bulls-Eyes (2014)
Characters
Ad blocker interference detected!
Wikia is a free-to-use site that makes money from advertising. We have a modified experience for viewers using ad blockers

Wikia is not accessible if you've made further modifications. Remove the custom ad blocker rule(s) and the page will load as expected.