Splatter
"Get this roustabout out of my sight!"

Some attributes

Date Aired
April 14 2012
Previous Episode
Swagger and Swerves
Next Episode
Dodge



Splatter
is the third episode of the
first season
.
Plot
Splatter and Dodge are completing their trial on the Island of Sodor. If all goes well, The Fat Controller will accept them to the fleet. but they are troublesome, and known to cause mischief. Gordon tells them to work hard but the diesels dion't pay attention to him.
When Thomas arrives, he sees Gordon resting, and he and Gordon decide to form a plan to get back at the two troublesome diesels. Splatter is shunting the express coaches and he breaks down near the platform. The stationmaster tells Thomas to take the coaches to the plataform, and he brings the coaches and Splatter to the platform, where Gordon is coupled up to them. Gordon rushes away, with Splatter still coupled to the train.
Characters
Trivia
Parts of this episode are based on the TV Series episode, Thomas and Gordon.
References to aforementioned episode, as well as Down the Mine are made by Thomas and Gordon.
The original episode was filmed inside, and it was the last one to do so.
A remastered version of this episode will be made.
Gallery
Video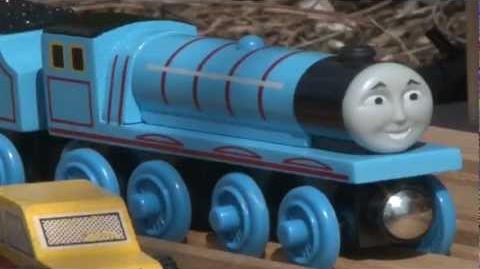 Ad blocker interference detected!
Wikia is a free-to-use site that makes money from advertising. We have a modified experience for viewers using ad blockers

Wikia is not accessible if you've made further modifications. Remove the custom ad blocker rule(s) and the page will load as expected.