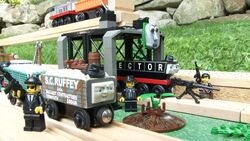 The Ballast Hopper
First Appearance: Swashbuckler (cameo)
Friends: Unknown
Enemies: Unknown
Voice Actor: Unknown
The Ballast Hopper is located at Arlesburgh West, where the Small Engines of the Arlesdale Railway drop off their ballast to be collected by the engines of the North Western Railway.
Appearances
He may appear in Self-Fulfilling Prophecy and Season 3.
Trivia
He is the first character to be seen smoking.
He replaced a pre-existing, faceless ballast hopper that appeared in earlier episodes.
Gallery
Ad blocker interference detected!
Wikia is a free-to-use site that makes money from advertising. We have a modified experience for viewers using ad blockers

Wikia is not accessible if you've made further modifications. Remove the custom ad blocker rule(s) and the page will load as expected.