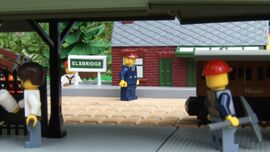 The Fat Controller, the Stationmaster, and the Railboat -Meet the Characters!
is a
"Meet the Characters!"
segment fearuring the Fat Controller, the Elsbridge Stationmaster, and Skiff.
Plot
At Elsbridge Station, The Fat Controller lurches into station with Winston and makes a sudden halt at the platform. He recives a phone call, to which he responds is no laughing matter and will be dealt with right away. The Stationmaster asks him what the matter is, to which the Fat Controller replies that a boat has been interfering with traffic on the main. When the Stationmaster belives he is talking about the Spanish Main rather than the Main Line, the Fat Controller leaves in a huff to go to the pub for some crisps. The stationmaster watches him go, joking about the Fat Controller's ability to focus on the task at hand.
Meanwhile, Skiff and Sailor John are seen sailing past the Sodor Airport, with Skiff enjoying every minute of it.
Characters
Trivia
This "Meet the Characters!" Segment is a deleted scene from the episode Samson, BoCo, and the Man in the Hills. EnterprisingEngine93 removed this scene and others from the episode when he learned from TheScotsmanReturns that the way the some of the characters were portrayed in these scenes were non-canonical to the film Sodor's Legend of the Lost Treasure.
Gallery
Ad blocker interference detected!
Wikia is a free-to-use site that makes money from advertising. We have a modified experience for viewers using ad blockers

Wikia is not accessible if you've made further modifications. Remove the custom ad blocker rule(s) and the page will load as expected.