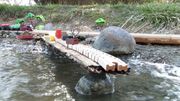 The Pier is a platform extending from the seaside to the water. It supported by pillars, and often provides access to ships or boats. Once, a set of faulty points switched Thomas onto the old pier line and he fell into the water. The Fat Controller sent Arthur to come to his rescue. A tidal pool is located near here.
It is located west of Norramby near the Fishing Village.
Appearances
Gallery
Ad blocker interference detected!
Wikia is a free-to-use site that makes money from advertising. We have a modified experience for viewers using ad blockers

Wikia is not accessible if you've made further modifications. Remove the custom ad blocker rule(s) and the page will load as expected.