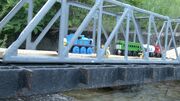 The River Bridge crosses a roaring waterfall on Thomas' Branch Line.
Appearance
The River Bridge was an old, rickety, and precariously unsafe bridge. It was a shock to no one when it finally collapsed. The new bridge bears a better structure and was built with stronger materials forged at the Sodor Ironworks. 
History
The River Bridge was built to cross a massive waterfall on Thomas' Branch Line which old have bee very difficult to cross other wise. Daisy had broken down there on one occasion and had to be rescued before the bridge broke in two. After Thomas pulled her to safety, it fell into the water and coasted over the falls.
The bridge is now repaired and allows safe passage over the cascading waters. 
Appearances
Gallery
Ad blocker interference detected!
Wikia is a free-to-use site that makes money from advertising. We have a modified experience for viewers using ad blockers

Wikia is not accessible if you've made further modifications. Remove the custom ad blocker rule(s) and the page will load as expected.