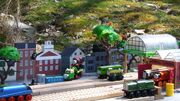 Tidmouth Station
is a station on
the main line
. It is close to the
Tidmouth Turntable
.
History
Tidmouth Station once served as the Main Station on Sodor, and the engines and staff often referred to it simply as "The Big Station". As years went by, the largest station became Knapford, though passenger traffic is still heavy on this part of the line. The station services a "through road" to Arlesburgh, and Duck can often be found here. Gordon also takes his big Express from here to other places on the line.
One time, after pulling the Express, Gordon came across the Fat Controller resting solemnly at Tidmouth, and he soon discovered that the reason for his distress was that new engine would be coming to the railway, but it was a very strenuous task for the Fat Controller. That engine, of course, never made it to Sodor, though his disappearance was not forgotten, and a few months later, the Fat Controller discussed this fact with the Flying Scotsman.
Appearances
Gallery
Ad blocker interference detected!
Wikia is a free-to-use site that makes money from advertising. We have a modified experience for viewers using ad blockers

Wikia is not accessible if you've made further modifications. Remove the custom ad blocker rule(s) and the page will load as expected.