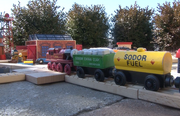 Tidmouth Turntable is an element of the yards that is used to transport and turn around trucks, engines, and coaches. Some engines also use it as a shortcut to the Main Line. The Fat Controller's office is located in this area. Daisy once had an accident here. Tidmouth Station is located not far from here.
Appearances
Gallery
Ad blocker interference detected!
Wikia is a free-to-use site that makes money from advertising. We have a modified experience for viewers using ad blockers

Wikia is not accessible if you've made further modifications. Remove the custom ad blocker rule(s) and the page will load as expected.