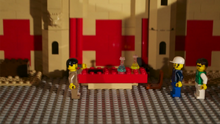 Wellsworth Hospital is a medical facility situated near Wellsworth.
History
The Thin Controller came to the hospital for a checkup on his broken femur. Upon finishing his examination, he departs for the Fat Controller's meeting. As he is leaving, some soliders and Lola Lovefray are seen questioning a nurse on General Zen's whereabouts. The nurse informs the soldiers that the general was never admitted to the hospital.
Residents
Appearances
Gallery
Ad blocker interference detected!
Wikia is a free-to-use site that makes money from advertising. We have a modified experience for viewers using ad blockers

Wikia is not accessible if you've made further modifications. Remove the custom ad blocker rule(s) and the page will load as expected.